San Diego Seller's Permit
Seller's Permit
Sales & Use Tax, Sellers Permit
Legal Description
A San Diego CA, Seller's Permit is required for individuals, partnerships, corporations, or other organizations to make wholesale or retail sales or rentals of tangible personal property or retail sales of taxable services in all states .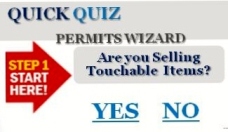 Click to Find Out if You Need the Permit(s).
Any business location is covered, including home businesses as well as eBay and online sales, unless the seller is except from taxation. Exempt from taxation are non profit corporations for example.
Normally, a seller's permit is valid only at the location for which it is issued. If there is more than one business location, most states issue the same permit number with a variation number for each location.
---
Below are Business License / Seller's Permit / & Business Registration types currently available for your search.
---
Type
License Type Description
See General Description
Continuation of permit for any individual, partnership, corporation, or other organization already holding a valid permit.