Find a Seller's Permit Number
We can check and find out if a sellers permit number is valid.
Please call today: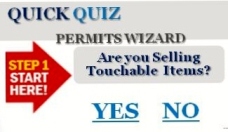 Click to Find Out if You Need the Permit(s).
Sales & Use Tax, Sellers Permit
If you are in the business of selling, leasing personal tangible property ( for example, selling from home eBay merchandise online) or sell taxable services at a retail or wholesale level, you are required to obtain a Seller's Permit. In addition, if you are a seller at more than one location, a separate license is required for each location. We will prepare and review and file your seller's license application.
Any business location is covered, including home businesses as well as eBay and online sales, unless the seller is except from taxation. Exempt from taxation are non profit corporations for example.
---
Below are Business License / Seller's Permit / & Business Registration types currently available for your search.
---
Legal Description
Type
License Type Description
See General Description
Continuation of permit for any individual, partnership, corporation, or other organization already holding a valid permit.
Location
Normally, a seller's permit is valid only at the location for which it is issued. If there is more than one business location, most states issue the same permit number with a variation number for each location.
Sales and Use Tax
Permits
What type of permits do I need if I am starting a new business?

Seller's Permit
Business License (All businesses are req'd to have one)
DBA business name also called a fictitious business name or trade name. (owners using their family name as the trade name of the business do not have to file a dba).
Federal Tax Id Number (Corporations/llcs & Employers are required to have it). Sole owners can use it as a business tax id number because all businesses must be identified either by an owners social security number or a federal tax id number.
A State Employer Tax Id Number ( all employers must obtain this one).
Note: it is recommended that you incorporate or form an llc to protect your personal assets from claims arising out of business transactions.

How do I obtain a Seller's permit?
---
Do I need a Seller's Permit if I am starting a new business?

Who Must Obtain a Seller's Permit?

A seller's permit is required for every individual, partnership, or corporation making retail sales, leases, or rentals of tangible personal property or taxable services in all US states, unless you are selling itmes that are exempt from sales or use tax.

NOTE: A Seller's permit with that name (seller's permit) may not be issued to wholesalers, manufacturers and other businesses not making direct retail sales of tangible property or taxable services. Normally, a sales tax id with another term is used, such as perhaps a wholesale license.

When should I apply?

Apply for a seller's permit at least three weeks before you open your business. You must apply for a new permit if yoiu buying a business from another owner.

What if i applied but have not received my Permit?

In such case, you are allowed to make retail sales of tangible personal property and taxable services. However, you are responsible to keep records and pay the government for all your sales tax.

A Bond May Be Required

Before or after you are issued a seller's permit, the state may require you to make a security deposit depending on the volume of merchandise you sell. A security deposit is usually required after you exceed a certain amount. Deposit ranges from $100 to $15,000 depending on the state.

Security is usually requested when there has been a history of delinquent taxes associated with the applicant or the amount of taxes expected to be generated from sales is usually high.

Issuing of the Seller's Permit

After submitting the Application for Sales Tax Registration and the security deposit (if requested), you will soon receive the permit in the mail. You must display the seller's permit in a location at your place of business. In some cases some states send you a wallet copy with your seller's permit to provide you with easy access to your seller's permit sales tax id number.

Tax Certificate for Consumers

In some states, a consumer's tax certificate is required for businesses that regularly purchases or leases taxable property or services for storage, use, or consumption and a sales or use tax was not paid. This certificate is not required if a business already holds a seller's permit or use tax certificate.

Use Tax Certificate

A use tax certificate is similar to a seller's permit but it is for an other than the issuing state 's residents. For example you are a business in California but you are engaged in business in Wisconsin. In such case you are an out-of-state retailer who is not required to hold a seller's permit, but you are making retail sales, leases, or rentals of tangible personal property or providing taxable services in Wisconsin.

For example, if you are an out-of-state retailer and have physical presence (legal nexus) in some states, you may be required to register and collect the tax.

How do I obtain a permit?

You can register on line at Business Online Registration.

You will need to complete an Application for Seller's Permit Tax Registration.